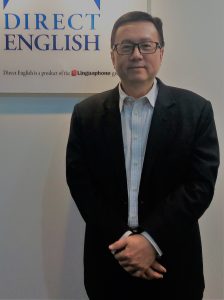 FROM THE DESK OF THE GENERAL MANAGER
The month of September had been most eventful for Direct English Malaysia as the second annual edition of Direct English Symposium or DESYM 2019 was successfully organised on 11 Sept 2019 at St John's International School in Kuala Lumpur.
DESYM 2019, with the theme English & Education 4.0, was officially opened by the Deputy Education Minister, YB Teo Nie Ching. A host of distinguished keynote speakers and presenters were at the symposium sharing their wealth of knowledge and experience with all the participants, comprising representatives from educational institutions, training providers, professional bodies and, English trainers and teachers.
Professor Dr Zuraidah Mohd Don, chair of English Language Standards and Quality Council at the Ministry of Education, delivered the keynote session, alongside with other speakers who included Vision Four Media Group founder and chief executive Dato' Steve Day, Francis Xavier, co-founder and chief technology officer of Live Tutor Solutions Inc., US, Dr Bridget Lim Suk Han – head of the Assessment & Evaluation Department at Institut Aminuddin Baki, Sabah and Mark Simpson, the business development manager of Linguaphone Group UK.
The symposium also witnessed two memoranda of agreement signings between Linguaphone Group UK and the two new country master licence partners i.e. English Learning Direct Pte Ltd from Philippines and ANSA India Pte Ltd from INDIA.
What also made the month of September exceptionally exciting for everyone at Direct English Malaysia was the launch of Direct English Live! in Malaysia by Mr Derek Price, the CEO of Linguaphone Group UK. Direct English Live! is a powerful interactive learning platform that was developed to effectively reach and benefit a greater audience of language learners in Malaysia.
Five partners of Direct English Malaysia received their Certificate of Recognition from Mr Derek Price during the launch ceremony where these institutions/organisations were recognised as the pioneer users of Direct English Live! in Malaysia.
Date: 10 Oct 2019